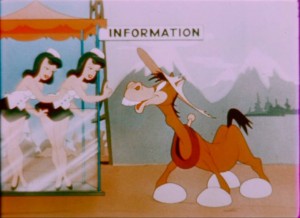 I've had this on the stack for a while, and since I know you're dying for updates, here's a rarity to tide you over.
As you all know, the only color copy of Bob Clampett's sole cartoon for Republic, It's a Grand Old Nag, was available in terrible dupes for decades. That was it. Even Clampett himself didn't have anything better, and that's what was included on the Beany & Cecil Vol. 2 DVD.
That changed almost two years ago when a 16mm Kodachrome of the cartoon appeared for an astronomical price on eBay. I tried reasoning with the seller, and he agreed to sell it for something reasonable. Then he decided to back out. Then I asked, look, for posterity's sake, can I rent it from you, make a transfer, and pay you a fee (and all shipping costs)?
The guy said sure. I was very impressed with the quality of the 65 year-old Kodachrome print. That film stock is not well known for its sharpness, but trust me, after the third-generation dupes we're accustomed to, this is the best we'll see it until a 35mm print shows up. (The color won't be much better either. Trucolor was another cheaper two-color process like Cinecolor.)
The improperly dressed animation wizard Steve Stanchfield came to my rescue and did the very nice transfer you see below. It was a big deal. Clampett's kids, the genial Rob and Ruth, were extremely pleased when I offered them a copy of their dad's final cartoon in full animation. I sent the print and a copy of the transfer back to the owner and never heard another thing.
That is, until several months later when I found out, quite by accident, that the guy flat out sold the print to someone else, after how he would only rent it to me because he whined about how "this is the closest I'll get to having a lost film." (I guess anything has its price.) The buyer, fortunately, was Jerry Beck, a close friend and fellow animation historian, but the story is still a thorn in my side. The guy never operated a film projector in his life and I could've easily swapped it out with anything. But that would mean stooping to his level.
Bottom line: the guy who had this rare, fun cartoon was a jerk, but happily it ended up in more than capable hands. And hey, now you can see it for free! Sorry for the watermarks, but the hard work of Mssr. Stanchfield and myself will not be overlooked. We paid for it, for chrissakes!
It's a Grand Old Nag from Thad K on Vimeo.