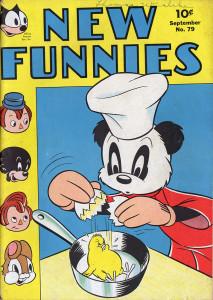 I had posted this story years ago on my now dormant site Golden Age Funnies. Like every niche website, both the proprietor and audience lost interest. My scans from at least ten years ago are long gone, and all to the good, because my skills at getting archival material online have increased tenfold.
It was a bit of a dilemma, though, scanning New Funnies No. 79 (September 1943), because my copy is in such nice shape. This copy was a bargain that I nabbed in my more volatile days. Early Dell comic books have never been plentiful at cheap prices in the last 30 years, and I couldn't pass up the opportunity to get Charlie Chicken's first appearance as a baby chick. (He was a full-grown rooster in the next issue.)
I wasn't aware that this Andy Panda story is one of the first John Stanley illustrated, period, for Dell until I read the draft for Mike Barrier's Funnybooks last January. Some Stanley stories in Our Gang Comics precede this one. Gaylord DuBois is the writer, with embellishments by Stanley (presumably with editor Oskar Lebeck's encouragement).
It's certainly funnier than the vast majority of Dell Comics at the time; Charlie's belligerent retorts are far more pointed than youngins were used to. Some of the "animation staging" that hampered Carl Barks's first year of Donald Duck is prevalent even here, though not to that degree of detriment. The final page is sublime comedy, period.