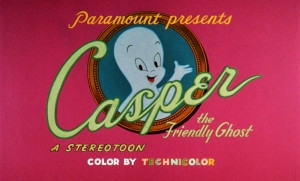 And of course, my plans to continually update my blog fell flat. It's not easy juggling some three or four different gigs, I'll tell you that.
One of the projects I've been involved with for the past several months is 3-D Rarities, a joint release from Flicker Alley and the 3-D Film Archive. Producer Bob Furmanek invited me to do audio commentary and liner notes for Boo Moon, the Casper cartoon Famous Studios produced in 3-D in 1953. Naturally, I jumped at the chance to pontificate about Famous Studios—even if it is Casper. I will say that the cartoon is a hoot properly presented, and the preview of the restoration at the Museum of Modern Art went over big with the audience.
The Blu-Ray will also feature some of my earliest digital clean-up efforts on several of the shorts and trailers. Thanks to Steve Stanchfield's generosity, I'm now able to do studio-level work out of my home, and I'm looking forward to repeatedly showing the big corporate boys that competent work doesn't require a monstrous budget, just care.