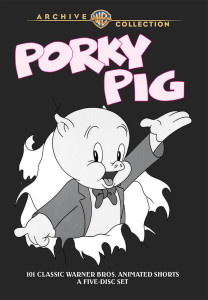 When I heard about the Porky Pig 101 5-disc DVD set from Warner Archive months ago via various channels of "insider info," I literally felt nothing. Having that kind of unfazed reaction to a licensed, complete collection of Warner cartoons is quite odd, yes. But not really, once it was known "the conditions that prevail[ed]."
Beyond having no Blu-Ray version, the bulk of the cartoons, the ones that weren't featured on the Looney Tunes Golden Collection sets of 2003-08, are not restored from the original negatives. They are mostly new transfers from 35mm interpositives and nitrate material. (This is also true for the new transfers of the color Warner cartoons of the last six years or so, which explains the very noticeable dip in quality and color.) We were forewarned that the difference would be noticeable, but hey, raw 35mm transfers are better than nothing, right?
When my copy arrived, the first cartoon I put on was Africa Squeaks, a crude little gem highlighting the casual racism of Bob Clampett (he was the best cartoon director of the early '40s, but if you want proof of that racism, it's all over this set). It was indeed uncensored, but I was rather taken aback to see that it was an older master, one made in the analog video era. It didn't bode well for the rest of the set. Despite the assurances these would be new transfers, several cartoons are sourced from the old Nickelodeon and Cartoon Network era analog masters. Given what transpired, I wish they were all taken from those copies.
How do I put this… Well, let's just grab a title from each disc. Picador Porky looks okay, but it has the wrong soundtrack over the opening and closing—so Porky says "That's All Folks!" when he isn't actually there. Porky the Wrestler is still censored (a blackface gag was cut in 1942), and it's exceptionally dirty and shaky, with the wrong "That's All Folks!" card literally spliced on.
Get Rich Quick Porky looks like a soft dupe, with the opening music from Confusions of a Nutzy Spy over the credits. Someone absolutely loved the opening music from Porky's Tire Trouble, as it's on about six cartoons where it shouldn't be (on Naughty Neighbors, it's looped twice). Too many cartoons don't have the WB shield zoom—it simply abruptly starts, just as so many film prints do.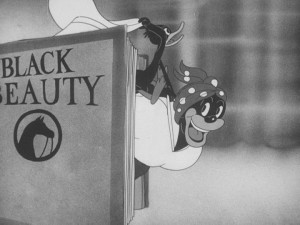 It'd be tempting to publish a full list of what's wrong with every other cartoon on this set, but that would simply give it attention it does not deserve. POSTSCRIPT: Since many have now asked, here is a list of the actual video/audio flubs. We can debate forever what is or isn't good print quality, but the following are objective, valid problems. I laugh at the idiots who say "They're just cartoons!", "They've never looked better!", or "At least they're not he Korean redrawn colorizations!" As if those arguments hold any water. Without further delay…
Westward Whoa – wrong soundtrack over opening
Fish Tales – wrong soundtrack over opening
Porky the Wrestler – censored, has the end title from Little Beau Porky tacked on
Picador Porky – wrong soundtrack over the opening and closing
Porky and Gabby – literally a jump splice from the credits to action, then splice to the end title
Get Rich Quick Porky – has the opening music from Confusions of a Nutty Spy and wrong closing music
Porky's Garden – has the opening music from Porky's Tire Trouble and wrong closing music
Porky & Daffy – missing first few seconds, starts abruptly on the WB shield
The Lone Stranger and Porky – has opening music from Porky's Tire Trouble
Chicken Jitters – has opening music from Porky's Tire Trouble
Kristopher Kolumbus Jr. – missing first few seconds, starts abruptly on the WB shield
Naughty Neighbors – has the opening music from Porky's Tire Trouble looped twice over the titles and first scene
Africa Squeaks – fake fade-in on the WB shield, from previous video master
Ali Baba Bound – missing first few seconds, starts abruptly on the WB shield
Slap Happy Pappy – missing first few seconds, starts abruptly on the WB shield
Patient Porky – new poor transfer, despite being restored from the original negative on Looney Tunes Golden Collection Vol. 5
Calling Dr. Porky – has opening music from Porky's Tire Trouble
Porky's Hired Hand – has opening music from Porky's Tire Trouble
Porky's Bear Facts – missing first few seconds, starts abruptly on the WB shield (but it is one of the best-looking, and best, cartoons on the set)
Porky's Ant – wrong soundtrack over opening
We the Animals Squeak! – missing first few seconds, starts abruptly on the WB shield
The Henpecked Duck – missing first few seconds, starts abruptly on the WB shield
Notes to You – wrong soundtrack over opening
Robinson Crusoe Jr. – wrong soundtrack over opening
Porky's Cafe – wrong soundtrack over opening
Make no mistake: the bodies of many of these cartoons look completely serviceable for a barebones release—from another era, that is. If this were a laserdisc set, it'd easily be one of the crown jewels of that format. But this is now 2017, when we have had a full decade's worth of high-definition classic film restorations and releases. Doing the bare minimum—putting out [mostly] uncut cartoons, the result of five years of lawyers bantering about 75 year-old pickaninny and mammy gags to justify their six-figure salaries—doesn't cut it any more. Do it right, or don't do it at all.
If they had simply used the old video masters, at least those flubs could be blamed on bad work twenty years ago and not twenty weeks ago. "Utterly clueless" is an apt summation for these postproduction people; "interns" would be another. They did not do the esteemed Warner Archive label any favors. In fact, in one case, they did a new, poor transfer of the dud Patient Porky, despite the fact that Warners had restored that cartoon from the original negative over ten years ago for the Golden Collection. The "cost prohibitive" argument against doing full restoration falls apart if they spent money to make a cartoon look worse.
As someone who does film restoration and master preparation on a daily basis, I can sympathize with cut corners, gaffes here and there. It's only human that a set of 101 short subjects would have a few imperfections, and it'd be unfair to blow those few out of proportion. But it is even more unfair when a giant corporation slings hash, knowing the stupid audience will buy the set anyway. If it's this or nothing, fine. Nothing it is.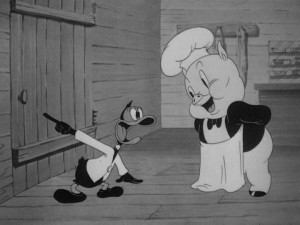 The most recent episode of the Warner Archive Podcast with George Feltenstein and my friend Jerry Beck was truly hard to listen to, with pleas to support and buy this collection without hesitation in order to convince the powers that be to release future animation sets of a similar nature. While I'm sure I'll be given grief for this, what's the point if they're not going to restore them and put out something half-assed that makes anyone who actually does care look bad? Does anybody really want to get an unrestored MGM Tex Avery set in standard-definition?
Don't let anyone kid you. We are living in an era in which restoration and preservation costs are going down—just about every transfer house charges the same for 4K as 2K now—and small companies such as Thunderbean Animation and Cartoons on Film are willing to pick up the slack with their releases of public domain and copyrighted shorts. As I write this, I'm working on the remastering of a god-awful Don and Waffles cartoon animated by Jim Tyer that's going to look inarguably as good (and arguably better) than any of the new transfers on this set. Think about that: a stupid public-domain Van Beuren cartoon is going to look better than a Warner cartoon on an officially licensed set. It's utterly embarrassing that we'll have restored versions of Flip the Frog, Willie Whopper, Felix the Cat, and Ko-Ko the Clown on Blu-Ray, and a behemoth like Warners won't pony up the cash to do the same for Porky Pig. It's not that the money isn't there; it's that Warners doesn't want to spend it, and if the sales for this abomination are good, it's proof they don't have to do it.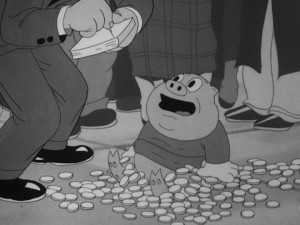 Which underlies the real tragedy, given what the contents of Porky Pig 101 represent: the historic early works of the medium's most talented people at the greatest animation studio of all-time, starring an incredibly enduring, timeless character. Doing restoration and preservation is only a good thing because they'll always be venerable parts of the Warner library. If they're not worth the extra mile, the "bonus" of proper restoration, what exactly is worth it? And does anyone really think they're going to go back and do these the right way if it's proven they can get away with this?
Quality control and preservation on the Warner-owned cartoons are officially dead until they drop the act and sublicense them to someone who does care. Th-th-that's all, folks!