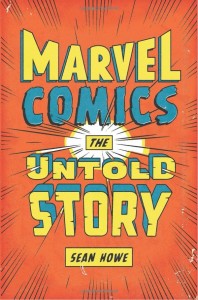 Given everything that's been going on with my own book (now available on Kindle!), it's been hard to keep up on all the other great books that have come out, so I didn't get around to this until now.
I have to make a confession upfront: I never liked superhero comics, and I still really don't. Some might say that I developed my aversion to them because my father was (and still is) a devoted fan, but my attraction to guys like Carl Barks, John Stanley, Walt Kelly, and Sheldon Mayer just seemed a far more natural fit for my budding tastes, and they still do. In the last few years, though, I've relented, and now have utmost appreciation for the works of Jack Kirby and Jack Cole in particular. Truth be told, the ratio of gold to crap in funnybooks is about the same as superheroes (though on very different scales).
Having said that, Sean Howe's book absolutely wowed me, and given the subject is largely about books I have zero interest in, that's saying something. It's the story of a company that took itself way too seriously, whose stories and characters became so convoluted and involved that the only way to save themselves was to make their universe even further convoluted. The backstabbing of its most important creators perfectly illustrates the grim fact that anyone in any business is expendable. The reasons for why Marvel, who have just as captivating a cast of characters as DC, couldn't get any feature films off the ground until fairly recently are rife in typical Hollywood drama (is there any other kind?). The tale of the development of Stan Lee, from an eager kid whose dialogue was always sort of lackluster but was likable and talented enough to the resigned corporate mascot of today, is more engrossing than any other account I've read on the subject.
The biggest flaw is that the other creators (save Stan Lee) get far too little attention at the expense of the suits and editors. The most colorful pages are those discussing Jack Kirby's work and his personal struggles with the company. Fewer people in American pop culture are as compelling figures as Kirby, and while going on too many tangents about him might prove detrimental to the general history of Marvel, there was still no other artist the company was as indebted to as Kirby. Glimmers of eccentric egomaniacs (Frank Miller, Todd McFarlane) are also extremely entertaining, and I would have preferred more coverage of them than the constant refrains of the internal struggles at the top of the company.
Anyone with even a passing interest in the entertainment world should pick up this highly charged tome of the 'little company that could' turned corporate behemoth. Dare I say it, it's more engaging than any comic.