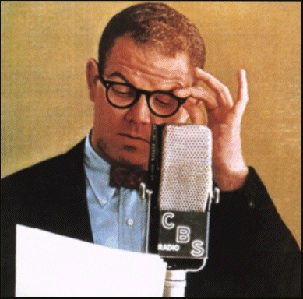 As Bob Clampett's reign at Warner Brothers Cartoons was coming to an end in the first half of 1945, a very talented young man was brought in to do voices. As his autobiography says, he took a bus to Hollywood, went straight to a talent agency, and was promptly hired by Warners. This man was Stanley Freberg, the first in a wave of upstarts who would begin proving that just because Mel Blanc had been the only distinctive voice actor in Hollywood for years didn't mean he'd always remain so.
The Warner directors were taken by the 18 year-old Stan Freberg's versatility and quickly began regularly casting him. He recorded his first voice for Bob Clampett for the ill-fated For He is a Jolly Good Fala, a cartoon that was immediately aborted after President Franklin D. Roosevelt's death on April 12, 1945. It was replaced in the studio pipeline by Bacall to Arms.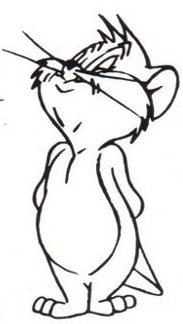 The scrapping of the cartoon did not hinder Freberg's productivity. Even before FDR's demise, Clampett had cast him for one of the titular Goofy Gophers (one of the director's last projects for the studio). Chuck Jones had also used him for Bertie in Roughly Squeaking and he voiced Grover Groundhog in One Meat Brawl for Bob McKimson.
Well before all of this, Clampett had been planning to leave Leon Schlesinger's studio. He was negotiating a possible supervisory position in the Screen Gems cartoon department in early 1944, but that deal fell through. The following year, after Schlesinger sold his studio to Warners, Ray Katz and Henry Binder, Clampett's friends and Schlesinger's old partners, became the new (and final) Screen Gems producers. Clampett was able to secure a job as a creative supervisor and story head. Which was all to the good. Clampett was working without a contract his final month at Warners (meaning he could leave when he wanted, or be let go when Ed Selzer, Schlesinger's successor, wanted).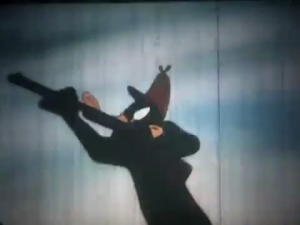 Clampett never directed at Screen Gems, where he might have made an actual difference. He only wrote his own stories and gave his input to others. He was also responsible for getting Stan Freberg over to do voices at the studio (as well as Dave Barry). Freberg is heard in numerous Screen Gems cartoons of the period, such as Boston Beanie and Wacky Quacky – both trainwrecks that bely any description beyond "a schizoid's point of view."
Freberg also did an uncanny impersonation of Peter Lorre for the 1947 Color Rhapsody, Cockatoos for Two, which Clampett wrote and was directed by Bob Wickersham. Amazingly, this was not the first time Freberg did the Lorre voice for a cartoon with Clampett's involvement.
The first time was for the timeless Daffy Duck classic, Birth of a Notion, a cartoon that was originated by Clampett and Warren Foster and ultimately directed by Bob McKimson. Clampett's departure was certainly abrupt, as the April 28, 1945 recording sessions for both Birth of a Notion and Bacall to Arms indicate (Davis was announced as Clampett's successor May 7th). Three cartoons he started had to be largely finished by Davis (Bacall and The Goofy Gophers) and McKimson (Notion).
I can't help but wonder if Cockatoos for Two was Clampett's way of pining over losing Birth of a Notion, not just because of the Lorre caricatures, but because the Columbia cartoon features a homing pigeon (voiced by storyman Cal Howard) that acts like Daffy Duck. It's not as though we viewers were deprived of anything. Notion as directed by McKimson is surely one of the heights of 1940s animated cartooning.
Daffy Duck – Birth Of A Notion

Vezi mai multe video din animatie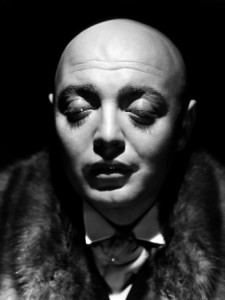 You will note that Freberg is directed very differently in these two cartoons. In the Warner cartoon, Freberg is doing a more subdued, menacing Lorre, as seen and heard in a film like Mad Love (in which Lorre does play a mad doctor). In the Columbia cartoon, Freberg is directed far 'cartoonier,' akin to Lorre's much less serious roles in films like Arsenic and Old Lace.
A comparison of the two cartoons also reveals how studio dynamics can affect talent. There's no sense of any missed chances in the Warner cartoon, even though it was taken over by a radically different filmmaker. While he routinely did amazing things before, the most Clampett can do in the Screen Gems system is wander aimlessly, hoping one one of his ideas will hit the bullseye rather than misfire. (And even then, the best thing in the cartoon, "I must have a new taste sensation!", is only so because of Freberg's delivery.) Screen Gems turned what could have been a laugh-riot at Warners into something mildly amusing and creepy.
Oh, and I should take note, this particular transfer is incredibly rare, as no complete set of elements on the cartoon exist in the Columbia Pictures vaults. I discovered, and transferred, an original 35mm nitrate IB Technicolor print of Cockatoos for Two last year and shared images. Sadly, the opening credits and last few seconds of this print were clipped, so I've used footage from a B/W 16mm print. Still, it's amazing it was in the shape it was, given it had been sitting around for 65 years. I now present that reconstruction here for the world, for free.
Thanks to Keith Scott and Mike Barrier, both of whom provided research material for this piece. Steve Stanchfield, Collin Kellogg, Jerry Beck, and Fredrik Sandstrom helped make the film reconstruction a reality.