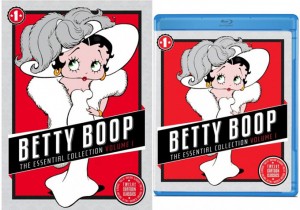 I have a number of reasons to be skeptical about the announced Olive Films' Betty Boop: The Essential Collection Vol. 1, to be released in July. Not that anything Olive has done in the past makes me wary, as I own a number of their releases and the transfer quality is consistently excellent. Rather, it's what they're doing now that is furrowing brows.
Most apparent is that that selection of cartoons not only seems hastily done, but it lacks genuine historical insight. Albeit, most of the cartoons are wonderful, but it's not nearly as representative as it should be. For a premiere volume, one would think a few of the cartoons animated by Grim Natwick, Betty Boop's creator, would have been included. But this selection starts after Natwick left the studio. None of the cartoons with Cab Calloway or Louie Armstrong (which would obviously entice a wider audience) are on this premiere release either.
The titles planned for future volumes, as David Gerstein writes, seems arbitrarily limited to the Betty Boop series or what's been released before as part of the 1995 anthology film Betty Boop Confidential, with a few public domain selections based on those rules thrown in (which leaves out over 30 Talkartoons or Screen Songs starring Betty).
That lack of savviness surely stems from the fact that none of the roundtable of animation experts are involved with Olive Films. A fair amount of noise has been made over the fact that Jerry Beck is not a consultant on this project. That's not to say Jerry's involvement is a cure-all, but his absence is not exactly a mark in any project's favor, nor is the fact that Jerry knows no one calling the shots on this release.
This kind of thinking is fairly typical with the big players, of which Warner Home Video is certainly the worst offender. "We know everything and you geeks don't know what the hell you're talking about." Well, maybe if those geeks were making more of the final decisions with basic (and free) advice, we wouldn't have faded Eastman Tom & Jerry cartoons mastered in high-definition or Blue Ribbon versions of Warner cartoons when readily available original elements exist. Therefore it's a little disheartening that this mindset is alive at a smaller player whose intentions seem earnest.
One example of how this will work against them, re: Betty Boop: the Paramount logos for all of these cartoons could easily be reinstated from private collectors' materials relatively inexpensively (especially compared to what UCLA charges for use of their materials), but it seems obvious we'll have those pointless U.M.&.M. logos and jump cuts blaring from the HDTVs soon enough. Just a little effort and acceptance would surely result in better sales and more favorable reviews.
I hope that I'm very wrong. The oeuvre of early sound Fleischer cartoons is the second-most important one in classic animation still in dire need of a strong release (the first and foremost, of course, is that of the Tex Avery MGM cartoons). But I doubt this will be it.
Update: Amazon pre-order links now available: Blu-Ray and DVD. I can understand the costs of licensing copyrighted works, but they could've filled it up with more content than this for $19.99/$24.99. The Thunderbean DVDs cost next to nothing and Steve Stanchfield literally makes those by himself. If I didn't know any better, I'd think Olive Films was the amateur outfit…