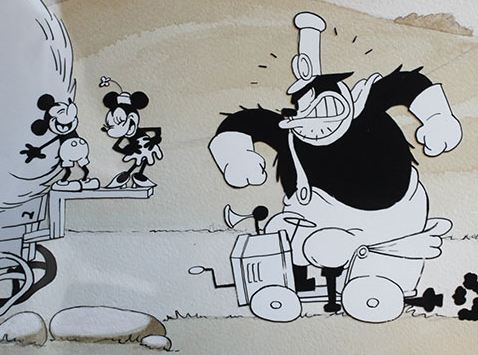 You'll want to direct yourself to Jerry Beck's Cartoon Research site, where Mark Kausler has written an incisive analysis of the new 2D/CGI Mickey Mouse hybrid Get a Horse!, and specifically the comments from the short's director Lauren MacMullan and head-of-2D-animation Eric Goldberg (and Mark's response). While it's orgasmic to see two of the world's greatest animators arguing publicly about the shape of Mickey Mouse's nose, the bigger problems have (understandably) fallen wayside.
I saw Get a Horse! earlier this week at the New York City Film Forum, where it was screened as part of its Mickey's 85th Birthday Party retrospective (curated by Greg Ford). I don't blame Mark for not retaining much of what he saw after only one viewing, because I couldn't either. As I wrote in a comment on Mark's review, the new cartoon is more reminiscent of the gimmicky Disney World rides (Muppet*Vision 3D comes immediately to mind), where you're half expecting to get sprayed with water at any moment. The hand-drawn animation, which as Mark rightly states, is very good but more in this century's mindset and literally hard to see (it all takes place on a movie screen-within-a-movie screen). For what it is, Get a Horse! is very enjoyable, but to hold out hope that Get a Horse! will usher in a new wave of traditional shorts is rather baffling.
The fact that the Kausler-Goldberg-MacMullan exchange immediately descended into a tantric discussion of whether Mickey's face in the new cartoon more resembles that of The Barn Dance or The Mail Pilot underlies the bigger problem. MacMullan and Goldberg were perturbed by Mark's comments that he viewed just the design as compromised, not the whole thing as compromised. MacMullan's comment ("I was always being urged to have the plot spool along quicker than was normal for the era, and to have Mickey burst out of the 2d as early as possible, in case we lose the mainstream audience") reveals the mindset at Disney's: that because an audience can not be captivated by a traditional Mickey Mouse short on its own, it just had to have the CGI element, or else fear losing "the mainstream audience".
That corporate theory was demonstrably false at the very screening I attended, where eleven Mickey Mouse cartoons (more than half of them made before 1934) preceded Get a Horse!, and every single one of them got a standing ovation (and often uproarious laughter) from the multigenerational audience. Get a Horse! got a rousing response, too, but I wonder how it will do in front of Frozen, when it doesn't have the benefit of being in historical context (that is, the audience gets its point some 90 minutes of vintage Mickey later).
Mark certainly knows what he's talking about more than anyone else on the subject of capturing early sound animation. His films It's the Cat and There Must Be Some Other Cat are not mere throwbacks, but vessels embodying all that was invigorating and exciting about the medium getting retooled in the early 1930s. Much of that important work was done at Walt Disney's studio, and that's what makes some of Mark's review sad to read. It's as if he's saying Get a Horse! is showing how much closer we are to getting 1928 quality in corporate Hollywood, and that alone is something to celebrate. But, geez, does anyone honestly believe this cartoon wasn't made to solely pump money and attention into the original Mickey Mouse design just in time for when those cartoons' copyright is set to finally expire? Gosh, what a racket like an old buzzsaw.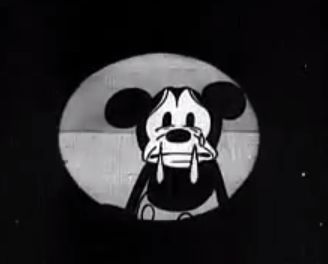 (Kudos to Milton Knight for the post's title.)