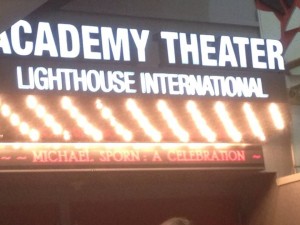 Michael Sporn's celebration at the Academy's Lighthouse International screening room was last night. The large gathering of friends and admirers should have been for a screening of Poe with Michael in attendance, but as the adage goes, life isn't fair.
It was a lovely ceremony, an appropriate mix of clips of Michael and his films (Dr. Desoto, my personal favorite, was screened in its entirety) and remembrances from Michael's widow Heidi Stallings, his brother Jerry Rosco, and his longtime friends John Canemaker, Candy Kugel, and Ray Kosarin. Mark Mayerson, who regrettably couldn't be there, also contributed a speech.
I didn't see many people I know, other than John Canemaker, Howard Beckerman, Michael Barrier, J.J. Sedelmaier, and Greg Ford. But I certainly didn't feel out of place, as Heidi enthusiastically greeted me, knowing exactly who I was. She assured me she's keeping Michael's Splog alive and even asked if I'd help contribute posts to it. I'd love to help in any way, although it's odd to think of that site written by anyone other than him. Even when he was highlighting the work of other people, the Splog, like his films, are all Michael.
I had a quick drink with Mike B. and his wife Phyllis a few days before the celebration, where he reminisced about the interviews he conducted with Michael present, Otto Messmer, Johnny Gent, and Eyvind Earle among them. He also mentioned how it seems impossible to imagine Poe being finished by someone else, unlike notorious commercial projects that were overtaken after the irresponsible directors squandered millions because they don't know how to finish a picture.
The night's program, though, says that Poe is "currently in production." However inconceivable it is to imagine a Michael film without Michael, the outpouring of genuine admiration last night assures a completed Poe would simply be an act of love. Probably an act of inherited stubbornness too, as John Canemaker made clear was one of Michael's endearing qualities, when Michael struggled for years financially. I doubt Michael would want to let something like his death get in the way of finishing a film, or even continuing his Splog. Certainly anything that keeps Michael Sporn's name and memory alive is to be desired.