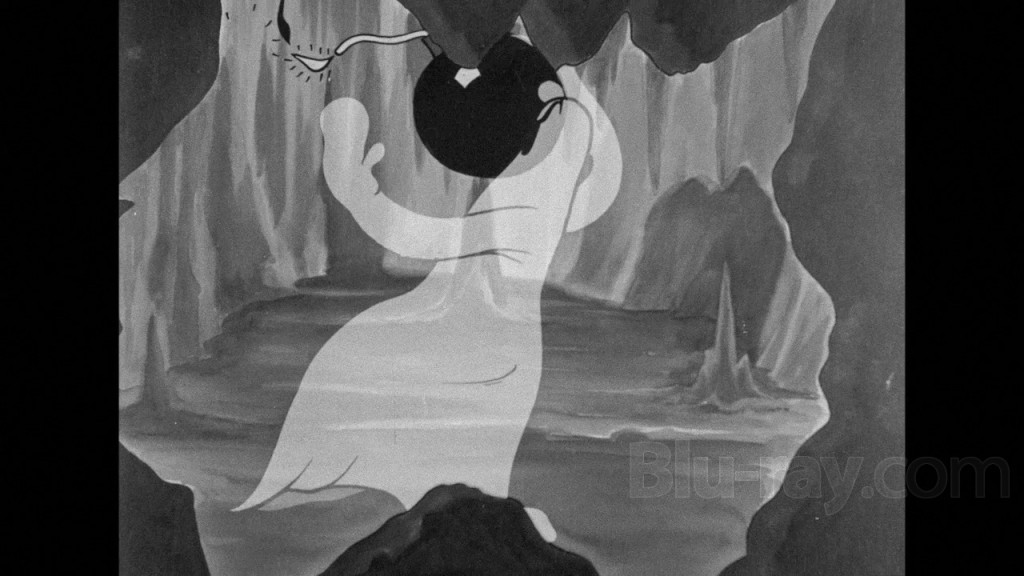 I wrote about the damage Olive Films and Paramount had done to the first (and, subsequently, second) release of Fleischer Betty Boop cartoons in a detailed report on Cartoon Research last August. I knew it would do no good for the second volume, but I was at least holding out hope for the last two volumes to be spared the same treatment.
I couldn't have been more delighted to see the Blu-Ray.com review that showed the cartoons on Betty Boop: Essential Collection Vol. 3 are accurately presented. Bob Furmanek congratulated me, stating that my article salvaged things. "Your detailed report and my letter to Frank Tarzi [the director at Olive Films] on August 28 did the trick. At the time, he wasn't aware of the problem and he passed on your data to the mastering people at Paramount." Let it not be said that cartoon research accomplishes nothing. [5/12/2014 Update: Of course, they're still cropped, but not offensively so. So Olive Films listens, and they don't.]
The new collection is about half the one it could have been. Olive's bizarre programming seems to have included a few great cartoons completely by accident (Minnie the Moocher, I'll Be Glad When You're Dead You Rascal You, I Heard, The Old Man of the Mountain) and filled the rest with an odd, random assortment of others. I'm reminded of the VHS days, when we'd buy a new compilation simply to get one or two cartoons that had never been released before. And they weren't much cheaper than a $25.46 price tag, either.
I never bought Vol. 1, but did break down for Vol. 2 because it featured a number of important and excellent Fleischer cartoons like Dizzy Dishes, Bimbo's Initiation, and Boop-Oop-a-Doop. What a mistake. The stretching is not "indiscernible" as alleged experts would tell you. The distortion is downright criminal and makes it impossible for any discriminating viewer to enjoy some of the greatest cartoons of the early sound era.
I have no idea if Olive plans to do a second pressing of the first two volumes to correct them, but I can't in good conscience recommend them. I think they're tantamount to the Definitive Collection laserdisc that was marred by DNR. Probably worse, because in the case of DNR, at least no one could deny the cartoons were damaged. Whereas in this case the number of "I'm not really bothered by it" comments is staggering and rather embarrassing.
But to end this on an upbeat note, Vol. 3 is a collection you should buy, and Vol. 4 too. I have no idea what the fourth collection will feature, but the list of the cartoons licensed by Olive circulating the Internet is not complete. The 1931 Talkartoon masterpiece Mask-a-Raid was licensed by Olive, as was the 1932 oddity The Robot. Why a non-Betty girl cartoon over dozens of ones she actually does appear in? Damned if I know, and it shows the lack of insight that has steered these crapshoot Olive releases. The Fleischer cartoons deserve better, and fortunately, they will be done better in the future. Keep watching the skies.