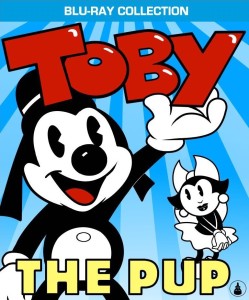 While a release of any pre-code sound animation should be worth celebrating, Toby the Pup from Ray Pointer's Inkwell Images should be approached with caution.
The basic background: these are cartoons made in 1930-31 by the three-way partnership of animators Dick Huemer, Sid Marcus (whom Huemer credited with creating Toby, despite what this release implies), and Art Davis for producer Charles Mintz and distributed by RKO. The series was a failure and ended after twelve cartoons, all of which are considered "lost."
Four of them resurfaced in modern times by way of 35mm French release prints from Lobster Films and Serge Bromberg (not "Bomberg" as the release's credits have it), and that's mostly what's included here; Circus Time is from UCLA Film & Television Archive (not "UCLA & Television Archives", as seen, again, in the credits). Other Toby cartoons have been found, though I'm not at liberty to say how many (mainly because I'm not sure myself).
It should be telling that three errors seen on the Inkwell release needed to be corrected right off the bat, but even historical inaccuracies and embarrassing typos can be forgiven if the films' presentation is satisfactory. Such is not the case, by a long shot.
As someone who does film restoration on a daily basis, I sympathize with those who have to work with a meager budget on material that has suffered to this degree. Bearing in mind the Toby cartoons' history, raw transfers would've been just fine. Sadly, as is typical of an Inkwell Images release, Pointer seeks to "improve" the cartoons to the best of his technical abilities, which seem as ancient as the cartoons. Poor title recreations with generic fonts and fake irises pepper the set. Whoever mastered the Blu-Ray (BD-R, not a replicated disc) has no idea how to do so, since the 50 minutes of material is far more compressed than it needs to be, with a botched frame rate to boot (6o fps as opposed to the correct 24fps). The accompanying DVD-R actually looks far better.
What's left of the material that is. Another Inkwell trademark is unnecessary censorship, pointed out in the feature-length audio commentary by Mark Kausler. He kindly alludes that cuts in Circus Time may be some long-dead besotted censor's work, when in fact these were edits made specifically for this release. Compare the version of The Milkman seen here to the one on Tom Stathes' Cartoon Roots. It's over a minute shorter! True, the Stathes release reinstates some previously lost footage (taken from a 16mm print), but the Inkwell release is even missing more than that. The random censorship is a long-standing problem that Pointer has never adequately explained, if an explanation is even possible.
Unsurprisingly, the sole saving grace of this collection is that 30-minute audio commentary by Mark. It captures any afternoon spent with this animation treasure for those not lucky enough to experience one personally: tons of fascinating insight, little-known history, and laughter. It's just a shame he had his time wasted.
While the Toby cartoons themselves are as hit-and-miss as the Scrappy cartoons the Huemer-Marcus-Davis did for Columbia, there's also a wonderful charm and life to them. Halloween in particular matches anything done by the Fleischers at their off-the-wall pre-code peak. They deserve better than Inkwell Images has provided. Fortunately the films and character are public domain (the "trademark" information is erroneous—you can't trademark a public domain property, especially when you haven't created any new content with said character), so someone can do a better job in the future with what survives. Let's hope.