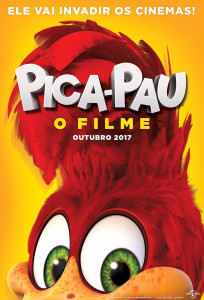 The oddest feature on the DVD of Woody Woodpecker, the newest live-action/CGI animation hybrid based on a classic cartoon character, is a hidden bonus feature: Niagara Fools, one of the better '50s Woody Woodpecker cartoons, looking nicer here than it did on the 2008 Woody Woodpecker & Friends Classic Cartoon Collection Vol. 2. And it's hidden well—no mention of it anywhere and no chapter stop—so I'm at a loss for its inexplicable inclusion. I say "better" because as most cartoon fans know, cartoons in the theatrical era didn't get much worse than when the credits read "Directed by Paul J. Smith." He presided over the last two decades of the Walter Lantz studio's output and while there were occasional bright spots in the first few years, like Niagara Fools, Smith was an auteur of inept cartoon comedy and crude drawing and animation.
In that respect, Woody Woodpecker lives up to its source material very well. It's no better or worse than what you'd expect by now in a world that's birthed Looney Tunes: Back in Action, Yogi Bear, Alvin and the Chipmunks, and whatever other "reprisals" I'm forgetting. You have the paint-by-numbers plot (Woody's forest faces demolition; the new kid is having trouble with his dad; villains kidnap Woody and his new friends); the bland human leads (although one of the film's villains, a poacher, is a dead-ringer for Dapper Denver Dooley); and the smattering of fart and shit gags. (As the Chipmunks movie established, coprophagia is now an accepted staple of children's entertainment. In one scene, Woody defecates on a villain's ice cream cone, which apparently makes it tastier. It's the second time Woody shits in the movie.)
The CG animation, done by Cinemotion in Bulgaria, is serviceable even if it's inappropriate for as manic and elastic a character as the woodpecker to be anything but hand-drawn animated. Woody does at least maintain his anarchic/amoral personality for most of the picture, causing everything from construction site mishaps to gas explosions, which does wear thin over some 80 minutes. If there's anything redeemable about the movie, it's that voice actor Eric Bauza did an excellent job recreating the circa '40s Woody. Pity he wasn't in every minute of it.
The choice of director Alex Zamm (Inspector Gadget 2, Beverly Hills Chihuahua 2) is proof enough that Universal execs had no intention of this being anything more than forgettable cookie-cutter filler for the Wal-Mart and Netflix family sections after it was released in the film's intended market of Brazil. There, Woody (as "Pica-Pau") has remained incredibly popular with all ages, and still broadcasts daily, something that obviously can't be said for the character's home country. Why intentionally craft a formulaic babysitter movie for a market where the original Woody cartoons are still popular with teens and adults? It's a missed opportunity, and film reviewers in Brazil have noticed, as exhibited here and here.
Paul Smith fortunately wasn't the only guy to handle the character. Many fine Woody cartoons came from Shamus Culhane, Dick Lundy, and Don Patterson, as did some great comics from John Stanley, Dan Gormley, and Freddy Milton. Unlike Mighty Mouse or Casper the Friendly Ghost (characters nobody honestly likes but have still been around and known forever), there are real gems to be found in the Woody series and the Lantz cartunes in general (I should know, I co-ran a website devoted to them for many years) and that has inevitably helped the cartoons' longevity in Brazil. Ergo, a new movie with Woody should celebrate and pay homage to what people liked about the old cartoons—right? Apparently not.
It's not as though the people that could do the job are hard to reach. Woody Woodpecker gives a "special thanks" credit to David Feiss (Ren & Stimpy, Cow & Chicken, I Am Weasel), whose highly recognizable frenetic style would've been a perfect match for the character, but there's no sign of his influence here. Not that the right people being there would've probably made a difference. The last reprisal of the Lantz characters in 1998, The New Woody Woodpecker Show, was headed by Ren & Stimpy's Bob Jaques in its first season and staffed with many of the talented and distinctive artists from the Nickelodeon series. Yet it was still as unwatchable as anything else on TV (getting progressively worse in the former R&S artists' absence, of course). It's obvious the badness of these reprisals all comes down to control from the top, regardless of who's making the product. It doesn't matter who does Woody any more than it matters who does Bugs (see Joe Dante's interviews regarding Looney Tunes: Back in Action), unless these guys are allowed to do what they do best.
After decades of this behavior, and with our culture immersed in reboots of all shapes and sizes, the time is ripe for improvement—let talented people rebirth these things the way fans want to see them; chances are, they're fans too, so they'll know. Disney seems to have struck a chord with its DuckTales revival; Tom and Jerry are reused by Warners so many times a year they're bound to hit a target occasionally. But that's about it. With the news that Animaniacs! is being revived with an ex-Seth MacFarlane producer as the showrunner and without a single writer from the original show, it seems most of Hollywood is determined to remain set in its alienating ways. It's a shame even from a financial perspective; even $21 a day once a month is better than a billion dollar boner.