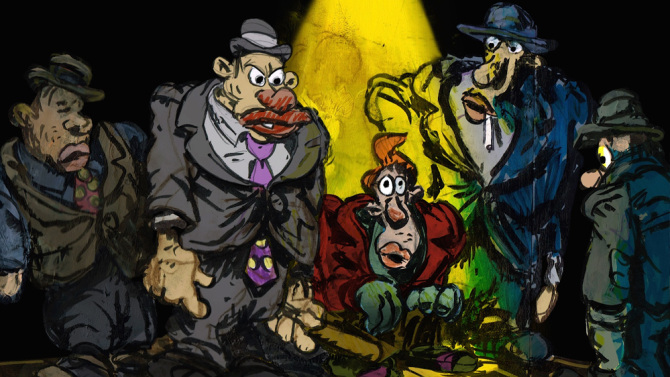 My first thought after watching Last Days of Coney Island, the 22-minute film Ralph Bakshi made via funds from Kickstarter (and which I only got to see after practically screaming at their door, despite having backed it), is that it's an utter embarrassment. But, given what Bakshi's name has been attached to for the last 40 years, what's left to be embarrassed about?
The film is the train wreck we all expected, but the train took a messy detour through a couple ditches while derailing. For once the narrative and story aren't entirely to blame; brothels made up of Coney Island clown hookers, and the woes of their lovers and children… you know the drill with Bakshi. Despite being utterly pointless and stupid, the script is surprisingly solid given the man's track record. Its failure is all about the actual artless art that moves it.
Remember those kids in animation school that either flunked out or got an extension because their films weren't finished? Coney Island is exactly that. There is no clean-up. There are no inbetweens. Clips of John F. Kennedy and Lee Harvey Oswald's assassinations are taken from low-resolution YouTube rips. I had to make sure my high-speed Internet connection wasn't lagging several times.
As a friend aptly put it, "Wow, this is like if a retarded 6th grader saw Malcom and Melvin and tried to make a Powerpoint presentation about it." If it were a student film, any respectable teacher would've handed this back with an essay's worth of comments on why the student wasn't passing the course.
Which is a shame, because while the animation in Bakshi's films was always all over the map, there was still much to admire. How could there not be with the talent he used and abused over the years? As the memoriam in the end credits reminds us, Bakshi worked with some of the best in Hollywood and New York animation. They ranged from those that loved him (Irv Spence, Marty Taras) to those that despised him (Dave Tendlar) to those he repeatedly denigrated (Bob Taylor). After seeing that list of thanks, my other immediate thought was, "Too bad he didn't have any of those guys working on this."
Bakshi is a common type in Hollywood: a relatively lousy filmmaker who keeps getting the chance to prove himself, repeatedly getting money and accolades only to offer nothing in return. I've noticed no accolades online for this film though (save from the usual sycophants). Despite a decent amount of press, Coney Island has warranted very little discussion in animation circles. Is everyone just in shock over how bad it is?
For the $174,195 he raised, I can name any number of animators who would've done a better job. Mark Kausler, who animated key sequences in Heavy Traffic and Coonskin for only a couple hundred dollars each, immediately comes to mind. (EDIT: Mark wrote to tell me he was paid a grand per job.) Michael Sporn, who unsuccessfully tried raising less than ten percent of Bakshi's goal to make a whole feature, is another.
In a fair world, it'd be the Kauslers and Sporns who'd get a chance or two to make a film without restrictions, and the other kinds of animators would be sitting in a corner praying that someone will remember they were once actually good at something. But Mark is retired, and Michael's passed on.
One thing in Bakshi's favor: a reoccurring theme in his work is contempt for how the liars, hypocrites, and conmen of the world get away with everything, while the good guys are stomped out. Pretty autobiographical, however unintended.