What are my qualifications to never post?
Well, I've been busy as a freelance writer and journalist as per usual, and all of my free time for animation writing has been devoted to pitching and starting an exciting new project. I'm pleased to say that my friend and colleague Charlie Judkins and I are co-authoring a new book: a history of New York studio animation (from the teens to the '60s) to be published by Wesleyan University Press. That's all I can give away for now, but I assure you we aim to give these neglected films and artists the scholarly attention they've long deserved.
Now, on a completely unrelated note…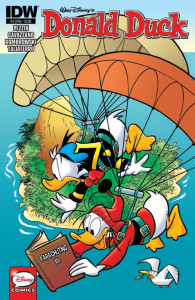 I've also been translating stories for the new line of Disney comics by IDW. The process is taking a script (generally of Dutch or Italian origin) and spicing it up in my own voice for American publication. It's a job I've missed dearly. My friend, collaborator, and boss David Gerstein had me do a few for the Gemstone line nine years ago, and I'm delighted to be a regular contributor for IDW.
The translating team includes Jonathan Gray, Joe Torcivia, and Gary Leach. We're all students of the Disney masters, so we all "get" these characters. But on our personal writing styles, I'd say Jonathan and Joe are always in a "stupidest puns" competition mixed with pop culture references reflective of their eras (Joe a child of the '60s, and Jonathan an '80s kid), whereas Gary is very much a classical Barks scholar proper whose excellent work goes back to the original Gladstone days. Myself: I think it was Jonathan who described my style as stewing in a seat in the corner making "really cynical, really mean-spirited" jokes. Suits me. (Joe's enthusiastic analyses can be found over at his blog, The Issue at Hand.)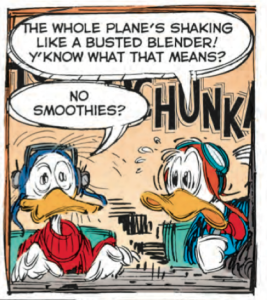 You can judge for yourself this month: Jonathan has started a year-long serial in Walt Disney's Comics and Stories #721, Joe has a story in Mickey Mouse #311, and Gary begins a two-parter in Uncle Scrooge #408. I had the pleasure and privilege of translating a rather convoluted but funny ten-page Donald Duck for WDC&S #721. It's a classic 1982 story by Daan Jippes and Freddy Milton with Donald as a tortured bookie runner, once too hot for American publication. Donald Duck #370 features my spin on "The Siege of Nothing Atoll", a spy-spoof with Donald and cousin Fethry illustrated by the great Giorgio Cavazzano.
Note that this is classic, not modern Cavazzano. His style today is good, if a little standardized. Cavazzano drew "Atoll" in 1976, still fresh from his days assisting and inking the other great Italian Disney master Romano Scarpa. In those years he managed to make every pose unique and funny, and could make something as standard as an airplane flying or explosion cloud a surreal extravaganza.
It seems the new line of Disney comics is selling rather well, particularly Mickey Mouse, whose launch issue last month was essentially a sell-out all over the New York City/New Jersey area. Some of the team has presumed the popularity of the new Toon Boom Mickey cartoons for the Disney Channel has given the character better brand recognition. (Jonathan said his brother was stymied after watching a few with his daughter: "These are funny. Mickey Mouse's not supposed to be funny.") My low opinion of those cartoons aside, anything that helps give these comics longer press life is fine by me.
I'd tell you to watch for an update, but, well, we know how that goes.