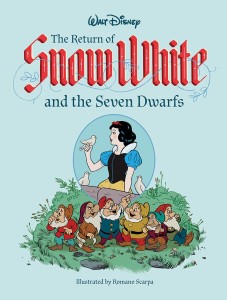 Now available from Fantagraphics is The Return of Snow White and the Seven Dwarfs, which features four of the stories Romano Scarpa drew with the movie characters for the Italian Topolino. Scarpa only wrote the latter two stories, while Guido Martina (whom I've dubbed the Italian John Stanley) wrote the first two.
These are strange, wild stories that deal with mortality in very grim and chilling ways, but they also have a coherence and humor that makes them genuinely entertaining, far more than any American comics with the characters. (Who else but those Italians would think to have Jiminy Cricket have the hots for the Wicked Queen?) I would place them in the same tier as other Mickey Mouse stories Scarpa and Martina made in the 1950s like "The Blot's Double Mystery" and "The Mystery of Tapiocus VI". Scarpa was arguably the best comic book author of the Mouse, and he did some fine Duck comics, but Scarpa working with the Dwarfs in Topolino was one of those rare combinations in Disney comics, much like Gil Turner was with the Big Bad Wolf in Walt Disney's Comics & Stories. In those stories, the author is able to make something promising out of characters that were just about always throwaway filler.
As presented by Fantagraphics, the comics retain their original coloring and are well reproduced from decent stats. The American English translations are mostly by Jon Gray (with David Gerstein and Michael Catron), who's been the main script-writer on the Disney books by IDW. I'll admit, knowing Jon as I do, that I was nervous these particular stories might have been out of his wheelhouse, but that nervousness was certainly misplaced. He deftly delivers Dwarf English these thrillers deserve.
My only caveat is that there's no accompanying article about these stories in the book, save a little uncredited blurb on the copyright page. While sometimes the stories themselves are enough, it's still accepted that the publisher needs to justify why this unseen material is being presented in an archival collection. Hopefully a future collection will have some substantial accompanying text by David or Italian comics scholar Alberto Becattini, as there are more than enough Scarpa/Martina Snow White comics to justify a second volume. But it's the comics that matter, and they're served well herein.